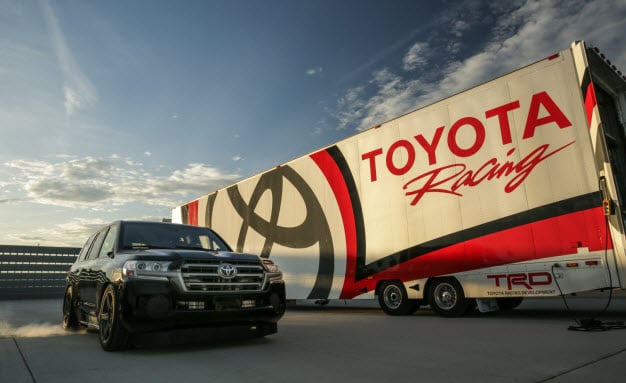 The SUV market is flooded with premium, high-speed options, but not one can compete with the Toyota Land Cruiser. Just recently, the legendary Toyota earned the title of "World's Fast SUV," all thanks to a customized 2,000-horsepower model.
Former Toyota NASCAR driver Carl Edwards was behind the wheel of the Land Cruiser when it broke the "Word's Fastest SUV" record. The vehicle reached a top speed of 230.02 mph, which is 19 mph more than the previous record. A host of modifications made to the SUV, which originally came stock, helped push it to its limits.
A 5.7L 3UR-FE V8 engine was used in the record-breaking Land Cruiser. To bump its power, Toyota added Garrett turbos, new pistons and rods inside the engine, and a custom-made intake manifold. A custom racing transmission was also included, which supported the SUV's 2,000-horsepower output. Additionally, the Land Cruiser was lowered to the ground to boost aerodynamics and narrowed by 3 inches to accommodate new sport tires. Its frame was also altered for optimal suspension geometry.
With each customization complete, the Land Cruiser was ready to hit the pavement. The team took it out to the Mojave Air and Space Port in Mojave, CA, where Edwards met them for the run. Taking off down a two-and-a-half-mile paved runway, the Land Cruiser quickly picked up speed.
"At 225 mph, the thing was wandering a little bit. All I could think was that Craig [Stanton] said, 'No matter what, just keep your foot in it,' and we got 230 mph," Edwards recounted from behind a huge grin after setting the record. "It's safe to say that this is the fastest SUV on the planet."
To check out the standard, speedy Toyota Land Cruiser, visit us at Crown Toyota today.