Your car battery is just one of many components that allows your Toyota to operate smoothly, and when it's not properly maintained, it can prematurely die and leave you with an inoperable vehicle. For many car owners, this happens way too often, but it can be avoided if you have your car battery in Decatur routinely serviced.
Bring your car into our service center at Crown Toyota annually to receive the following battery services:
Battery Terminal Cleaning
Your battery terminals can become dirty and corroded over time, which is why it's vital to have them cleaned on occasion. This small step can help prolong the life of your Toyota car battery and keep it running at optimal levels.
Battery Diagnostic Test
Running a diagnostic test on your battery can tell you how much life your battery has left in it. Our service technicians can determine how well it is operating and if it's time for battery replacement in Decatur.
Battery Cable End Replacement
All car owners should have their battery cable ends regularly inspected for damage that could lead to battery failure. If needed, the cable ends, which connect your battery cables to the terminal posts, can be replaced, saving you from having to purchase a new battery.
How Do I Know If I Need a New Toyota Car Battery?
There are a number of signs that indicate a car battery is failing. If you pay attention to the warning signs below, you could save yourself from dealing with extensive car troubles in the future.
Check engine light is on
Slow engine crank
Low battery fluid levels
Battery leak
Bloating battery case
Dim headlights
If you notice any of the above issues, be sure to schedule an appointment with one of our service technicians at Crown Toyota. We can help determine if your require battery replacement in Decatur.
Shop for Car Batteries at Crown Toyota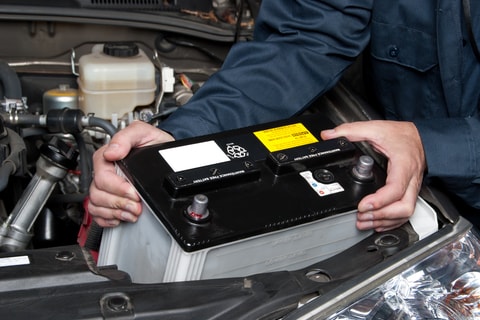 Need a new car battery? Contact us at Crown Toyota and we'll help you find the perfect one for your Toyota car, truck or SUV. We offer competitive car battery prices on an assortment of  popular brands that will suit your needs. From Duralast to Interstate, we have just the right car battery for your make and model.
Stop by our dealership today to speak to one of our service technicians about our batteries  for sale and car battery services!