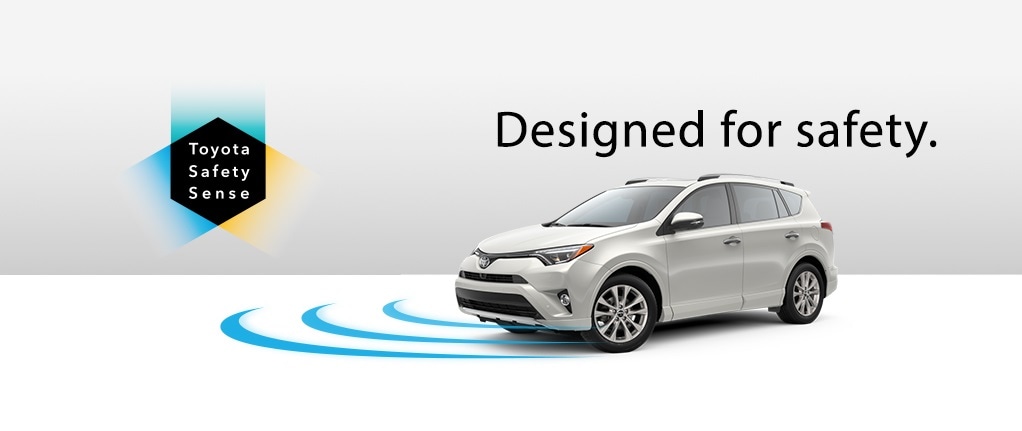 TOYOTA SAFETY SENSE™ (TSS)
Crown Toyota in Decatur is proud to offer Toyota cars, trucks and SUVs that feature the advanced safety technology of Toyota Safety Sense. Call or visit our Toyota dealership in Decatur to learn more about the safety features that help you share the road safely and protect your vehicle's precious cargo. To learn more about finding your next Toyota with Toyota Safety Sense features, our trained sales staff at Crown Toyota can answer any questions you may have regarding Toyota technology and safety.

Together we can help make the road safe.
Toyota Safety Sense is comprised of an integrated system of multi-feature active safety packages perfectly designed to keep you, your passengers and pedestrians safe on the road. Pre-collision warning and braking are the cornerstone of this safety package and help actively monitor driving conditions to enhance driver awareness and safety. Toyota Safety Sense features seamlessly work together to help prevent potential frontal collisions, keep drivers within their lanes and enhance road safety during nighttime driving. To ensure your ultimate safety, Toyota urges drivers to drive safely, focus on the road and obey traffic laws and limits.
TSS will be offered in the form of two packages: Toyota Safety Sense™ C (TSS-C) 9 for compact vehicles and Toyota Safety Sense™ P (TSS-P) 9 for midsize and large vehicles.
Toyota Safety Sense™ C 9 (TSS-C)
TSS-C features three proprietary active safety technologies, and combines a camera and laser for great performance and reliability. The package can help mitigate or prevent collisions in a wide range of vehicle speeds under certain conditions.
| | | |
| --- | --- | --- |
| | | |
| Pre-Collision System | Lane Departure Alert | |
Pre-Collision System (PCS)
10
- Vehicle Detection
Lane Departure Alert (LDA)
6
Automatic High Beams (AHB)
8
Toyota Safety Sense™ P
9
(TSS-P)
TSS-P combines an in-vehicle camera and front-grille-mounted, millimeter-wave radar for enhanced performance and more functionality.
Pre-Collision System With

Pedestrian Detection Function

Lane Departure Alert With

Steering Assist Function

Automatic High Beams




Dynamic Radar

Cruise Control