The winter can be absolutely devastating for vehicles. It is incredibly important that you take some time to prepare your vehicle before the winter begins. Car experts encourage drivers to complete winter maintenance prior to that first snowfall. Even an inch of snow or slush on the ground can wreak havoc on your vehicle. Let's take a look at five different ways that you can prepare your car for winter.
Keep an Eye on Your Tire Pressure
When the temperatures turn cold, the air inside of your tires will condense a bit. This can leave your tires with low air pressure. When your tires are low on air, this can affect how well your vehicle can grip the road. When you add ice and snow to the mix, this can be a dangerous combination. Not to mention, your tires will wear down faster if they aren't properly pressurized. Don't wait for your tire sensors to alert you of an issue. Monitor your tire pressure on your own.
Test Your Battery
Your battery is utilized for a number of vehicle functions. Mainly, when your vehicle starts up, this is produced by your battery charge. Your battery's capacity will decrease quite a bit when the temperatures start to drop. Make sure that your battery is fully charged, it has the ability to charge and that it can hold a charge.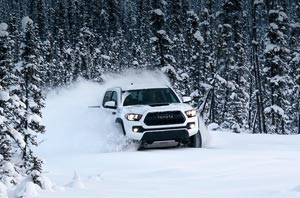 Check Your Windshield Wiper Blades and Windshield
The cold temperatures can really affect your windshield. This is especially true if there are already some small chips and cracks in the glass. If you are in need of a windshield replacement, it's best to address this concern now. Also, check your wiper blades for damage. If you don't already have a set that are designed for winter, be sure to replace them. This is a pretty affordable maintenance item to take on. Make sure you have a good set of blades that won't streak your windshield while in use.
Wax Your Vehicle
You may need to pull your vehicle into the garage to get this job done, but try to get a coat of wax on your vehicle prior to the winter months arriving. This will help protect your vehicle from things like road salt, ice, snow, moisture, etc. Be sure to utilize a good quality product that is recommended for your type of vehicle. Don't ever apply the wax outside when it is extremely cold or damp out. Bring your vehicle into your garage and let it warm up. Then you can go ahead and give it a good waxing. In general, the more you can keep your vehicle out of the elements in the winter, the better.
Inspect Your Headlights
The winter brings on an increased amount of darkness. You will be using your headlights far more often in the winter. Make sure to perform some routine headlight maintenance. Keep your headlights clean. Make sure that they are pointed outward at an effective angle. Lastly, you can invest in whiter and brighter light bulbs if you feel that would help you see better while driving.
If you need assistance with winter vehicle maintenance, stop by Crown Toyota. We can get your vehicle ready for the long, cold months ahead. A little bit of maintenance now will go a long way to preventing repairs later on down the road. We also want to make sure that your vehicle is incredibly safe. The winter weather can create some pretty treacherous road conditions. Maintenance can ensure that your vehicle is ready for what the winter will bring.