At Crown Toyota, we take tire safety extremely serious, which is why we encourage owners to practice routine tire maintenance in order to keep their vehicle in top condition. Almost 11,000 car accidents a year are caused by tire failure, and in many cases, these incidents could have been prevented if the tires were routinely inspected. Due to this little known fact, Crown Toyota is proud to offer a variety of tire services to Toyota owners at our service center.

Regardless of whether or not you have brand-new tires on your car, you should have your tires inspected annually by a trained technician. Everything from road conditions to driving habits can affect how your tires operate, which is why you should stick to your routine maintenance schedule. By obtaining a wheel alignment in Decatur and regular tire rotations, you can extend the life of your tires and keep your car in great working order.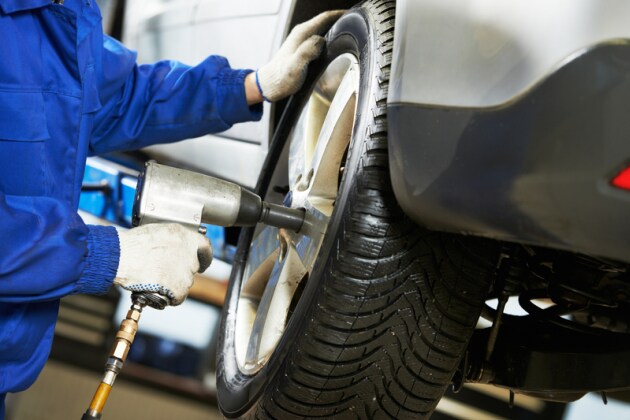 When to Bring Your Car in for New Tires
There are several signs Decatur drivers should look out for when it comes to faulty tires. View our list below and inspect your tires at home to discover if you are in need of tire replacement.
Tire Pressure - Tires with low air pressure tend to wear down quickly. Check your tires' psi using a tire pressure gauge to ensure they are properly inflated.
Cracks & Bulges - If your tires have bulges or cracks in the sidewalls, chances are you need new tires and you should schedule an appointment at Crown Toyota as soon as possible.
Tread Wear - Shallow tread is one of the most common signs you're in need of new tires. To check the tread on your tires, place a penny with Lincoln's head pointing down into the tread. If you can still see the top of Lincoln's head, it's time for new tires.
Decatur Tire Shop Near Me
Need new tires? Visit us at Crown Toyota for immediate service. Don't waste your money on cheap tires at places like Discount Tire. Bring your Toyota to us and we'll help you find suitable replacements for your vehicle. In our inventory you'll find everything from Michelin tires and Bridgestone tires to Firestone tires and Goodyear tires.
Once you've found the perfect tires, be sure to take your car into our service center annually for a wheel alignment and tire rotation in Decatur. We look forward to assisting you!