Toyota Transmission Repair and Maintenance in Decatur, IL
The Toyota brand has developed a reputation for manufacturing dependable vehicles. With proper maintenance, you can expect your vehicle to last for a long time. The transmission is a powerful component of your car. Whether you own a car or an SUV, you should schedule transmission maintenance and service on your vehicle. By scheduling this service, you can prevent your vehicle from leaving you stranded on the side of the highway or isolated road. If you need to schedule a transmission service, we recommend that you contact our dealership for assistance. You can schedule an appointment online or via telephone.
When Should I Change My Transmission Fluid?
Transmission technology has changed within the past decade. Your vehicle transmission requirements depend on the year and model of your vehicle. To get information about your vehicle maintenance requirements, consult your manual. If you are unable to locate your manual, contact our Toyota service center. One of our team members can provide you with the information that you need to get your car serviced.
What Are the Signs That I Need a Transmission Service?

The easiest way to determine if your vehicle requires a transmission service is to schedule a diagnostic appointment with our Toyota service center. Here are a few indications that your transmission is having problems. You hear grinding sounds that originate from your transmission. Your vehicle surges without warning. After you shift your car into gear, it hesitates to move. Is your vehicle experiencing these symptoms? Schedule an immediate appointment with our service center.
How Do I Select a Repair Center to Repair My Transmission?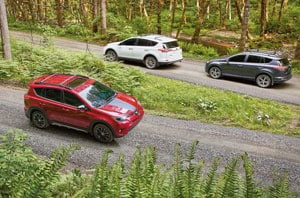 It's important to select a reputable Toyota repair center for your transmission. All makes and models have different features and intricate details. At our dealership, our certified automotive technicians are trained to repair Toyota and other vehicles. They received extensive training and updates several times per year. The technicians at our service center use OEM parts and replacement fluids. Although the price of the service should be a consideration, you should select a service center based on quality work and reputation.
What Causes Transmissions to Fail?
Transmission failure can be caused by a combination of factors. Aggressive driving is a primary contributor to transmission failure. Another thing that can cause your transmission to malfunction is the failure to get required services on your vehicle. In some instances, excessive mileage may contribute to transmission failure.
Service Hours
Monday

8:30 am - 6:00 pm

Tuesday

8:30 am - 6:00 pm

Wednesday

8:30 am - 6:00 pm

Thursday

8:30 am - 6:00 pm

Friday

8:30 am - 6:00 pm

Saturday

8:30 am - 5:00 pm

Sunday

Closed