Read about 2013 Venza for the Decatur area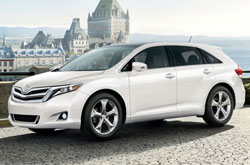 Make the most out of your next Venza purchase by reading a review of the 2013 Toyota Venza before you buy. As the leading Toyota dealer in Decatur it is our job to serve our customers with Toyota reviews written by the top Toyota writers in the world. As you read this article, you'll see that it is packed with important data on all of the things you'r looking for in the new Venza. Don't wait any longer - get started on your research!
2013 Venza vs the Competition - Compare Features & Specs
When comparing the 2013 Toyota Venza head-to-head with the 2013 Honda Pilot, Subaru Outback, Chevrolet Traverse, Ford Edge, Nissan Murano and the Hyundai Veracruz, and you'll see that the Venza outperforms those autos in quite a few aspects. Catch a glimpse of just a few of the reasons below.
2013 Toyota Venza MSRP: $27,700
2013 Toyota Venza Colors: Attitude Black, Barcelona Red, Classic Silver, etc...
2013 Toyota Venza Body Style(s): SUV
2013 Toyota Venza MPG: 20 city / 26 highway
2013 Toyota Venza Cargo Space: 34.4 cubic feet
2013 Toyota Venza 0-60 MPH in 6.4 seconds
2013 Toyota Venza Seats: 5 passengers
Toyota Venza Amenities Decatur Drivers Will Love
Helping You Uphold the Value & Quality of Your Investment
Toyota drivers don't have to roam far to find fantastic auto repair technicians and reliable OEM made parts. Our Decatur area Toyota repair facility is conveniently sited by copious cities and we give a long-term warranty on each service. Your Venza will run dependably with backing from the masters at our Decatur service center. Our techs can work on a slew of jobs - from more time consuming stuff like Toyota shock and strut repair to less intricate assignments like windshield wiper and timing belt replacement. For both more complicated and incomplex services, our Decatur car repair center can manage everything; as an added bonus Crown Toyota offers affordable maintenance pricing. Get specials every day. You can look up discounts by clicking the subsequent line of text.