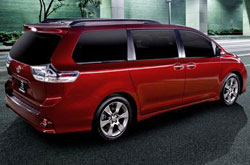 If you think purchasing a minivan means you're not hip anymore, think again. We promise you won't lose an ounce of cool when you own a 2015 Toyota Sienna in Decatur, Ill. Designed with your family in mind, the new Sienna (aka Swagger Wagon) delivers fun, comfort, technology and attractive styling.
This year, Sienna has even more swag than before with an enhanced exterior design that further builds on its bold, expressive look. It shows off a revised front grille, slimmer headlights, and subtly modified sheet metal up front and in back. 2015 Toyota Sienna reviews also say the minivan's interior is more upscale, adding higher quality materials and a more ergonomic dashboard design.
Performance is enhanced, too. After all, parents deserve fun-to-drive rides just like anyone else and Toyota made sure to provide plenty of performance fun when designing the Sienna. With 142 added weld spots on the chassis and a retuned suspension, the minivan's platform is notably stiffer and handling and ride quality have been improved. In addition, Electronic Power Steering (EPA) and special under-body pieces continue to boost performance, providing a dynamic experience that one might not expect from a minivan. Ample power from a 3.5-liter V-6 also offers confident acceleration.
The 2015 Toyota Sienna in Decatur  is offered in L, LE, SE, XLE and Limited trim levels. Luxury-focused Premium sub-trims are also available with SE, XLE and Limited models. At the top of the line, the Sienna Limited offers a full range of high-end convenience and tech features, like front and rear parking sensors, navigation and upgraded leather upholstery. The Limited Premium adds an extra touch of flair, as it does on the SE and XLE as well, augmenting the equipment list with a rear-seat entertainment center and automatic windshield wipers.
Limited and other select upper trim levels also include a new feature called Driver Easy Speak, which is akin to a school hallway monitor. It uses the infotainment system's built-in microphone to send your voice through the audio system's rear speakers, so your back-seat passengers can hear you loud and clear. 2015 Toyota Sienna reviews say it's a feature that parents will be grateful for and we're sure you can imagine why.
Also this year, Entune multimedia is standard on all trim levels for the first time. Newly upgraded and subscription free, Entune makes streaming music and accessing select smartphone apps through the car's touch-screen display a cinch.