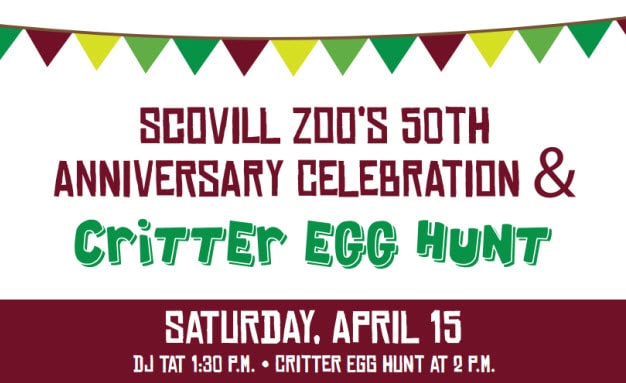 Scovill Zoo will be hosting its 50th Anniversary Critter Egg Hunt on Saturday, April 15, 2017. Perfect for the little ones, this family friendly event will feature a wide range of fun activities for all to enjoy. And the best part is admission is absolutely free!
A favorite among Decatur residents, the Scovill Zoo Critter Egg Hunt is fun for all who attend. Held in partnership with the Children's Museum of Illinois, Team Soy and Neuhoff Media, this year's event is set to be one Easter extravaganza you won't want to miss. A bake sale will start off the day's activities at 11 a.m. for guests to enjoy. DJ Tate is also set to provide live entertainment at 1:30 p.m., which will be followed by the Critter Egg Hunt.
Kids up to 10 years old will have the opportunity to participate in the hunt and win great prizes. In addition to the hunt, attendees will also have the chance to take train and carousel rides for just 50 cents throughout the day.
Located at 71 S. Country Club Rd., the Scovill Zoo is the place to be on April 15. Bring your family out to enjoy all of the fun and don't forget to stop by the Children's Museum of Illinois between 10 a.m. – 5 p.m. to take advantage of reduced admission.