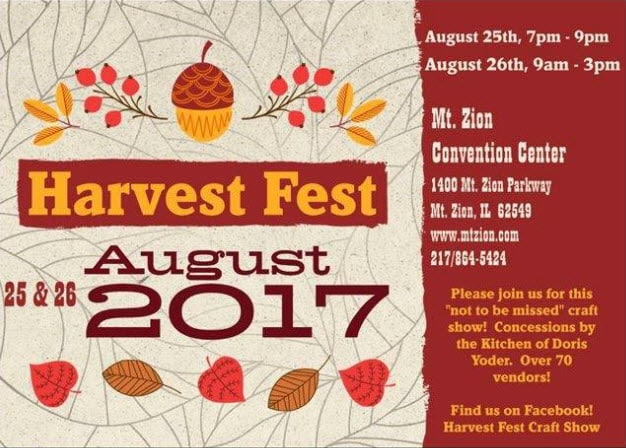 The Village of Mt. Zion is holding their signature Harvest Fest Craft Show on Friday, August 25 and Saturday, August 26 at the Mt. Zion Convention Center. This must-attend event is a favorite among those living within Mt. Zion and Decatur, offering plenty of fun for craft enthusiasts.
If you're looking for something fun to do the weekend of August 25, look no further than the Harvest Fest Craft Show. This upcoming affair is being called a "not to be missed" event, and it's 100-percent free to the public, making it a popular outing for many. There are already over 70 vendors scheduled to be onsite during both days of the festival that will be selling a variety of crafts and providing information about crafting. Jewelry, photography, basketry and handmade card vendors are just a few of those expected to attend.
Friday's event will run from 7 a.m. to 9 p.m., while Saturday's affair will take place from 9 a.m. to 3 p.m. Throughout the event, attendees will also get to enjoy concessions by the Kitchen of Doris Yoder, so be sure to come hungry!
If you'd like more information about the upcoming Harvest Fest Craft Show, please visit the official Facebook page for details.